Breathtaking vistas, country roads and walks on the lakeshore are some of the many ways you can enjoy the colors in the Western Upper Peninsula. Kermit Holt of the Chicago Tribune wrote of the fall colors: "Nowhere in North America, not even New England are the colors of autumn more vivid and memorable than in Michigan's Western Upper Peninsula."

Experience a fall vacation of reds, oranges, golds, and greens that tint the maple forests in the Lake Gogebic Area from mid-September to early October. Ninety percent of the area is forest covered, so your eyes will have plenty to take in.

The colors outlined by the mountains, bluffs, and lakes form postcards around every corner. There is nothing that can match one of our lakes or waterfalls wrapped in the brilliant colors of Autumn. Come see the burst of color for yourself or take a friend along for the company.
Western UP Fall Color "MUST SEE's"
Bond Falls – Paulding, Michigan

Bond Falls is one of those "best kept secret" spots in the Upper Peninsula that you want to make sure you do not miss. This beautiful water fall is located on the middle branch of the Ontonagon River near Paulding. Although it does not get the "press" of more famous U.P. water falls, Bond Falls has a large following of admirers and had even been part of a calendar listing the most scenic natural places in the world!
2.Superior Falls – Extremely beautiful gorge. Access is moderately easy.
Directions: From Hwy US 2 in Ironwood. Go North on Lake Rd. This is approximately 25 mile drive. You will see a marker on the road that says Superior Falls. Turn north (right) on that gravel road. Continue down the small hill to the parking lot. Walk down the road to the River Mouth and Lake Superior. Then walk upstream 1/3 mile to Superior Falls. Superior Dam Falls is a little further upstream. If you have time, stop at Little Girls Point Park for a picnic. You will see this park on Lake Road on your way to the Falls.
3. Agate Falls – Western U.P.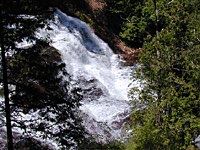 Large beautiful waterfall that is visited by many people. Located just off of M-28 The short hiking trail is well-marked and easy to find.Directions: Go 6.5 miles East of Bruce Crossing on Hwy M-28. You will see a sign on the Hwy at the Bridge. Park in the parking area on the south. Follow the well marked trail under the bridge to the waterfall.
4. Black River Waterfalls – Western U.P.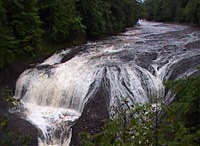 The National Black River Scenic Byway includes Great Conglomerate Falls, Potawatomi, Gorge, Sandstone, and Rainbow Falls. —

Video of Conglomerate Falls

The National Black River Scenic Byway includes, Great Conglomerate Falls, Potawatomi, Gorge, Sandstone, and Rainbow Falls. As you visit our waterfalls, stop and take notice of the signs explaining the conglomerate rock formations.Directions: From Hwy. US 2 in Bessemer take Powderhorn Rd North. When you come to the T in the road at the stop sign, make a left hand turn on Black River Rd. You will find all the waterfalls on this Road. This road is approximately 14 miles long, ending in the only Harbor & Marina operated by the USDA Forest Service in the lower 48 states.
i. Great Conglomerate Falls – This is a very large waterfall which is divided by a wide conglomerate rock formation. This waterfall is well marked. Walking trail 3/4 mile.ii. Potawatomi Falls – Potawatomi, which is barrier free, is one of the most beautiful waterfalls on the Black River. This waterfall is well marked. A restroom is available at this site. Walking trail is approximately 1/8 mile.

iii. Gorge Falls – This conglomerate canyon has a 34 foot drop. Potawatomi and Gorge Falls are acces sible by the same parking area. Walking trail is approximately 1/8 mile.

iv. Sandstone Falls – This waterfall meanders over rocks giving it a unique appearance. It is located on a beautiful spot on the Black River, with a well marked, short 1/4 mile walking trail.

v. Rainbow Falls – A Beautiful Waterfall that is extremely photogenic on the East part of the River. Enjoy the scenery on your 1/2 mile walk to the waterfall. Take is easy, there are many stairs.